EOY wasn't as fun as the last con(AFA), but still it there were people cosplaying, so here we go.
Not as many pics as the last time cos we left half way, but still, download times kill you.
This time the gang consisted of me as Haruhi Suzumiya in proper cosplay, Joanne as Lenalee, and Amanda as camerawoman, with random Timothy and Ian, together with Ulysses and Nyx as
Kaname
random night class vampire and Yuki + random seniors joining us later in the con.
We start off with Suigintou, from Rozen Maiden, whose pic I got at the 7-11 at expo mrt while waiting for the rest to arrive.
Now the gang! Amanda the camerawoman!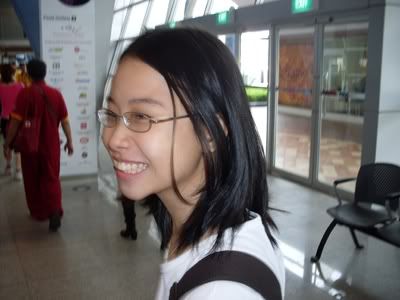 Timo >.>
And Lenalee :D
The first thing to do is to GO START POSING WITH OTHER AWESOME COSPLAYERS :D:D:D
Knight of 7: Kururugi Suzaku! :D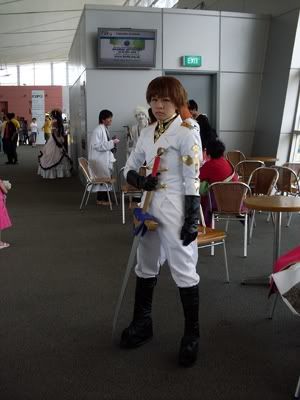 A familiar face! Its the Sasuke we met from the last con, AFA.
Another familiar face! Its Kanda from the last con as well.
And L :D
Then we went to eat at Subway (gah, ex DX) and we started talking about Lenalee serving coffee to the lot of people working under Komui.
That was when Ian joined us.
To keep to cannon, Lenalee asked Coffee Club if she could borrow a tray and some cups XD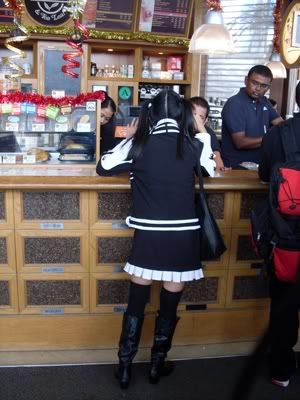 But all we got was a cup. Nevertheless..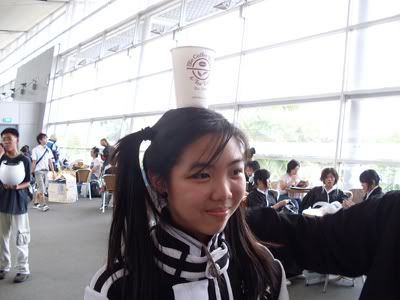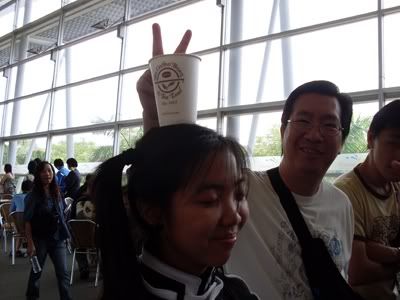 Lenalee vs coffee cup is close enough XD
Anyway, CUTE :D:D:D
Then the pink dolphin made an enterance.
Ok, some Code Geass cosplays. First up, Kallen!
Nextly, C.C. and R2 Lelouch!!! :D
I have to say that Lelouch's R2 Zero outfit is alot less gay than the spandex suit in the first season.
Anyway, season 1 C.C. and Cheese-kun! There was a giant one somewhere, but no photos taken of it ):
Lenalee + fail!tray.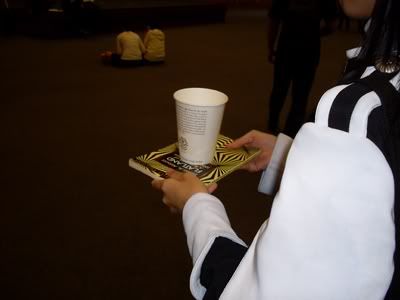 I cannot take the dolphin seriously.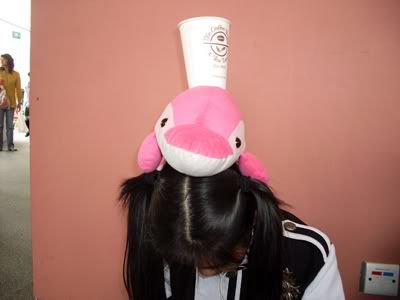 Anyway, random seniors and Uly and Nyx.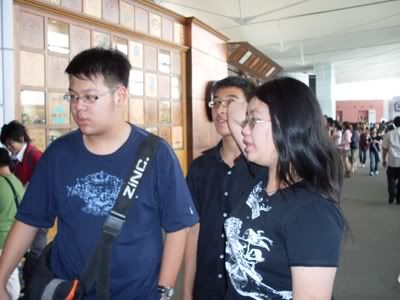 Cosplays from Vampire Knight!
INTERMISSION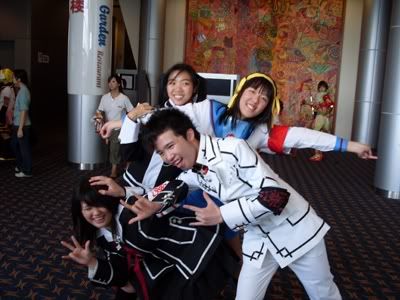 AND EPIC LANCELOT COSPLAY :D
Hi Anya!
DON IS STILL WIN :D
Random seniors
And I leave you with the reading trio.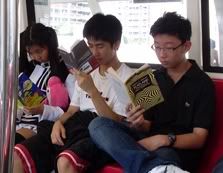 EOY had less people coming(though Ian said it was more crowded later on in the evening), but probably cos less people knew of the event, unlike AFA. Sad though, cos EOY had the potential to actually draw more people in to the event.
Next con: Matsuri Winter Fest at Fort Canning!